Commercial Pizza Ovens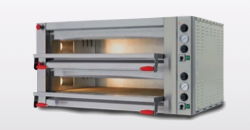 For a Canadian restaurant who specializes in pizza, you can't get better than a pizza deck oven. These machines were born to cook pizzas.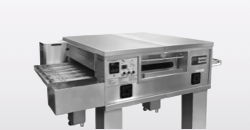 We've got countertop and floor model conveyor ovens. These are perfect for pizzas, but can actually cook a whole bunch of things.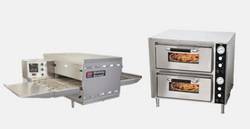 Don't need a full-sized pizza oven? These smaller ovens can help you out -- we've got both conveyor and deck style ovens.
Commercial pizza ovens come in all shapes in sizes... okay, well maybe not every shape (they're mostly rectangular). But they come in a variety of different sizes. There are three major types of pizza ovens.
The most popular type would be a pizza deck oven. This type of cooking style has been used for a very, very long time. So if you're in a traditional pizzeria, you'll probably be cooking with one of these. They come in various sizes. The chambers can be as small as 13" wide to over 40" wide. And you can get these ovens stacked or in a single layer.
But these pizza ovens can be used for a lot more than just pizza. Italian places will use these for their pasta dishes as well, and other places would use them for cookies and bread. So they are very versatile ovens!
The next most popular style of oven is the pizza conveyor oven. These can be very tiny countertop models, and then they can be larger floor models. So there is a very large range of styles. Some smaller restaurants may just want a small oven to cook a couple items every once in a while. And other restaurants may want a large conveyor oven that will be the anchor for their entire operation.
These can cook pretty much anything you put in them. And once you've got your rhythm down, these can be one of the most convenient pizza ovens out there. You just pop it in, and minutes later the cooked pizza comes out. And there are a variety of options with them: you can get a split conveyor, so that one belt moves faster than the next, so you can cook things for different lengths. Or you could get a conveyor oven with a door in the centre of the cavity, so that you can take items out after they've gone through only half of the cavity.
Finally, there are countertop pizza ovens. These ovens are a bit of a mix from the first two. There will be some conveyor ovens in there, some of which will be light duty, but others will actually be heavy duty. And the second type will be more like a deck oven, but a small, countertop size.
If you've got any questions about which commercial pizza oven you should buy, just give us a ring and we'd love to help you out. iFoodEquipment.ca has been selling pizza ovens across Canada for about 30 years now (which makes us feel old), but we still love pizza! And so we'd love to help you out.