Commercial Refrigerators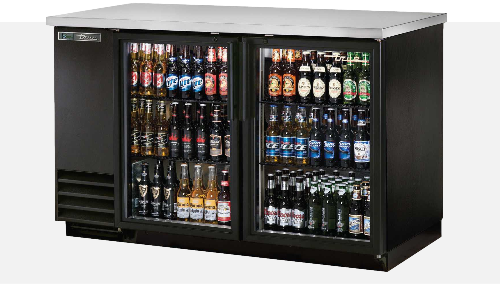 These refrigerators keep your beer cool and some help you serve it with a draft tap on top.
Bottle coolers can hold beer or any other bottled drink you want, with a top entrance for easy access.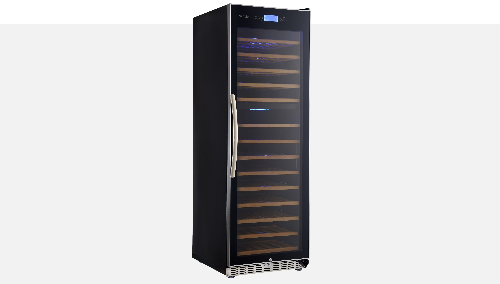 Refrigerate and display your wine in style! These wine coolers are cool, and they know it.
Undercounter & Worktop Refrigerators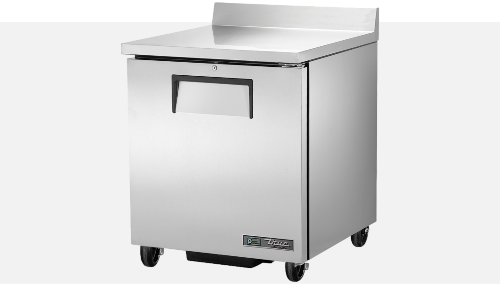 These refrigerators have tops which are safe to prepare food on. It's like buying a refrigerator and a countertop!
A chef base allows you to quickly access your frozen goods at your feet, and have equipment on top of it.
Other Commercial Refrigerators
Commercial Refrigerator Buying Guide
Restaurant, convenience stores, supermarkets, hospitals, and just about every food service establishment across Canada will need at least one kind of commercial refrigerator. Many establishments will require multiple commercial refrigerators for specific tasks around their establishment.
Commercial refrigerators come in many shapes and sizes. There are reach-in refrigerators which resemble typical residential units. A very popular choice for commercial refrigerators are display refrigerators. These are perfect for store front displays. You can usually customize the graphics on the side and fronts of these units and they are brightly lit, making them perfect for driving impulse buys.
Chef bases are commercial refrigerator that allow you to place other kitchen appliances on top of it. You could have a food processor on top of your chef base, while having access to all your refrigerated goods beneath it.
Commercial undercounter refrigerators are a commercial refrigerator ideal for establishments who need refrigerators items in an area tight on space. You often see these units in bars. These refrigerators will all fit underneath standard countertops.
What should you consider before buying commercial refrigerators?
When selecting a commercial refrigerator, you will want to consider the total cubic feet of the unit, the number of door or drawers, and the external dimensions of the unit.
The direction the door swings is also something to be aware of, as it could disrupt the workflow of the kitchen. Commercial refrigerators will either be mounted on castors or legs. Castors are ideal as you can easily move the unit, and they are able to be locked when you are done moving them.
Commercial refrigerators have many important differences to residential refrigerators. A residential refrigerator may have the same external dimensions as a commercial refrigerators, but the commercial refrigerator will almost always offer more internal capacity.
Commercial refrigerators biggest bonus is their powerful compressors. If the temperature every drops due to the door being open, you can be assured the unit will quickly bring down the temperature.
Residential units provide door storage, but this is actually a bad thing when it comes to food safety. Items stored in the door will not be as cold as the other items, meaning the refrigerator will not stand up to sanitation inspection.
Commercial refrigerators are made of commercial grade materials, and must be certified by restaurant sanitation standard. Residential units will not comply with health code inspection.
Commercial refrigerators also have the bonus of having curved interior corners. This makes them a lot easier to clean. All in all, buying a commercial refrigerators is your only safe bet for a commercial establishment.