Restaurant Seating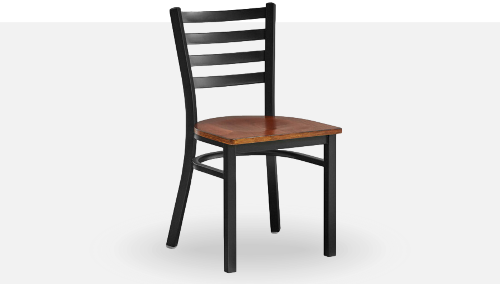 A wide variety of commercial restaurant chairs at wholesale prices. This are kept in stock and ship across Canada.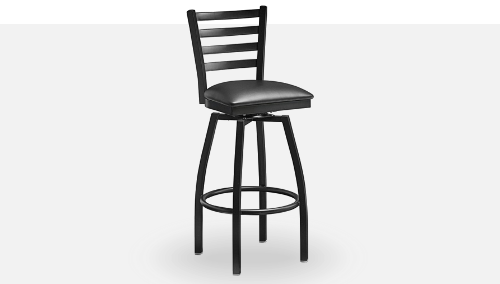 Restaurant bar chairs that are a bit taller than a regular chair for bar-height tables or bars.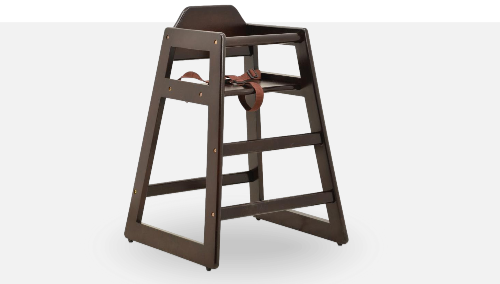 These commercial high chairs are designed to be safe, wobble-free, and easy to clean.
You want your guests to feel comfortable while dining at your foodservice establishment, and maybe if they're comfortable enough they'll even buy an extra drink or snack! There are a few main things to know when buying restaurant seating. Knowing the quantity of seats needed is important, but secondly, it's also important to know what type of seating best suits your business.
There is the standard-height chair, which is the most versatile option for restaurants - solid frame and back, with a seat of cushion or solid wood or metal, and with arms or no arms. Though this may be the most straight-forward option, it may not be the correct one depending on where you plan on putting the seats.
Next up is barstools, on average they're about 42 inches high (10 inches taller than the average chair) and are not limited to use at bars, they can be used for bar-height tables as well. Some have swivel-style seats for convenient turns plus it makes getting down from the stool easier.
Outdoor seating is the easiest to determine - does your establishment have an outdoor dining area or not? Outdoor seating needs to have extra strength and durability to withstand the sometimes harsh Canadian elements - rain, wind, bugs, birds, maybe snow, and even ice. Remember - Canada is a seasonal country with a seasonal climate, so winter storage is necessary for the off-season.
High chairs are most the specific and specialized seating option. Not all, but the majority of restaurants accommodate small guests and therefore high chairs are a must. Some are plastic, some are wooden, some have seatbelts, some have harnesses. They should be easy to use, transport, and clean. Having a detachable tray option makes getting in and out as well as cleaning easier.
Quality is the big differential when buying restaurant seating. Why not just buy residential quality? Well, to be honest: they often just won't last that long in a commercial setting. You might be surprised how much more wear-and-tear happens in a commercial setting versus a residential setting. So these restaurant seats are designed to be durable. They are also designed with health and sanitation requirements in mind, so it's always best to go with seating that's designed for a commercial establishment, whether that's a hotel, cafeteria, restaurant, or long-term-care home.
We're experts in the field, so please get in contact if you'd like to learn more.