Restaurant Table Tops
The top of the table is what customers see. Sometimes the best compliment is them saying nothing. Restaurant table tops rest beneath all the plates and of course foods that will be set on top - this is the focal point you want patrons to pay attention to. Therefore table tops should not be distracting or overwhelming in appearance. You want something that is easy to clean, durable, isn't distracting, and maybe most importantly, the right size. You can also check out our
outdoor restaurant table
section for any patio tables that you are looking for.



All restaurants will have slightly different styles, but if you run a franchise or have multiple locations, you probably want to have a consistent look. Having matching table tops, both in design and colours, is a good way to accomplish this. Some options even have double-sided colours, meaning it's one colour on one side and a different colour on the other. Laminate makes cleaning easier, molding on edges also keep things tidy and helps to prevent against chips and scuffs.

One of the major considerations when choosing a tabletop is how much money you want to spend. There is a huge range of difference when it comes to prices. You can buy economy tabletops or high-end tabletops. The different really comes down to material, style, and durability. When you spend more on a restaurant table top, you're going to be getting something that looks nicer and lasts longer. But that's not always a huge concern. If you are serving fast food and you just need something durable that will work and get the job done, then a cheaper model will do the trick. These are all commercial-grade tables, so they'll work for you, whether you have a restaurant, hotel, long-term-care-home or a cafeteria.

Knowing your layout and menu helps to determine how many tables you want in your establishment. Circular table tops cut corners (literally) for small-scale cafés and bistros, whereas elongated rectangular-shaped tables provide for larger gatherings with more people. For example, if your main product is coffee, you'd be likely to have small tables because people don't stay long and they're not ordering a lot of food. But if your main product is steak and other dinner-menu items, go for something bigger. It all depends on your business' pace.

We're table experts because we sit at them all day. So please get in touch if you'd like to learn more.
Read More.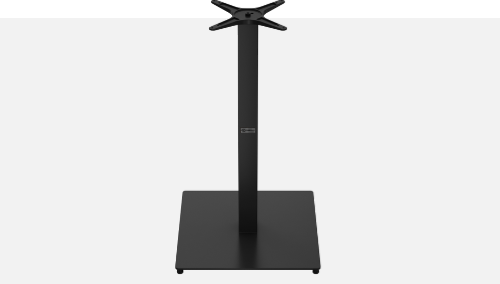 A table base fits underneath a table top. Otherwise the table top would just be lying on the floor.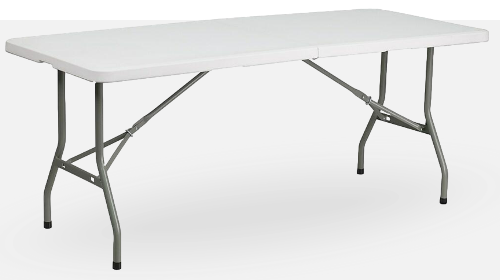 These are commercial-grade folding tables and folding chairs for restaurants and hospitality customers.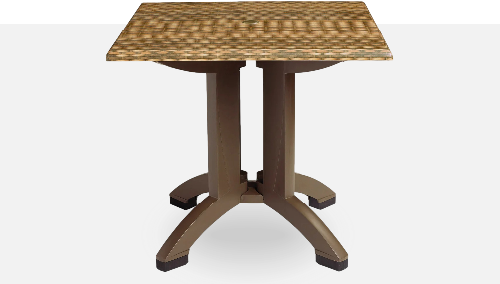 This section includes both patio table tops, table bases, as well as one-piece units and outdoor side tables for lounges.